garrigus
Moderator






USA
14927 Posts

Posted - 07/16/2017 : 10:37:24 PM



[Reply to Topic] | [Reply w/ Quote]
---
Acon Digital Acoustica 7 Audio Editing Software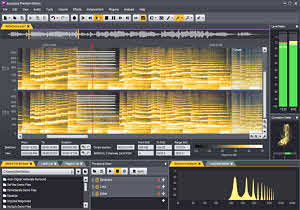 Acon Digital has released version 7 of their audio editor Acoustica. The entire application has been rewritten from scratch for cross-platform support and now runs on both Macintosh and Windows PCs. The new user interface comes with a modern dark theme and appears crystal sharp on retina style displays.

Acoustica 7 is available in a Premium Edition and a feature limited Standard Edition. The Premium Edition supports multi-channel formats up to 7.1 surround and a new spectral editing mode allows precise audio restoration work since processing can be limited to isolated regions in time and frequency. Powerful restoration tools such as DeClick, DeClip, DeNoise and DeHum based on the award winning Acon Digital Restoration Suite are seamlessly integrated along with Acon Digital's plug-ins Equalize, Verberate and Multiply...

Continue reading: Acon Digital Releases Acoustica 7 - Audio Editing Software for Mac and PC in News.

This post is from the DigiFreq music technology website... click here for more and win products!



Report to Moderator