garrigus
Moderator






USA
14977 Posts

Posted - 07/07/2017 : 1:09:25 PM



[Reply to Topic] | [Reply w/ Quote]
---
Soundiron Bontastic! Vintage Italian Chord Organ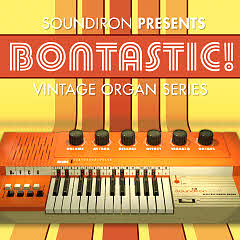 Soundiron is pleased to announce the release of the Bontastic! Vintage Italian Chord Organ.

The Bontastic! Vintage Organ instrument captures with perfect clarity the retro sound of the rare Bontempi B4 Electronic Table Organ. The instrument's vivid orange plastic exterior echoes the popular aesthetics of the 1970s and early 1980s during which time the organ was produced. The Bontempi organ that Bontastic! recreates is deceptively simple -- 25 keys and 8 chord buttons, no stops or options. But with Bontastic! we here at Soundiron have retrofitted a classic instrument and unlocked all the potential from a classic piece of music equipment...

Continue reading: Soundiron released the Bontastic! Vintage Italian Chord Organ Virtual Instrument in News.

This post is from the DigiFreq music technology website... click here for more and win products!



Report to Moderator