garrigus
Moderator






USA
14793 Posts

Posted - 07/06/2017 : 7:43:18 PM



[Reply to Topic] | [Reply w/ Quote]
---
Native Instruments KINETIC TOYS Virtual Instrument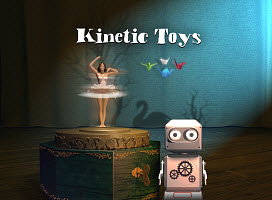 Native Instruments has released KINETIC TOYS, a new instrument for creating evocative leads, ethereal sound beds, rhythmic musical parts, evolving loops, and unconventional sound effects. KINETIC TOYS is the full-sized version of Native Instruments' winter gift, KINETIC TREATS.

KINETIC TOYS features over 200 individual sound sources – including a wide variety of well-known and unusual children's toys, games, and even snacks. These are combined with custom synthesized tones, to create musically tuned, playable hybrid patches. In total KINETIC TOYS features 3.5 GB of all original content, including 670 sounds split across 35 themed NKIs. KINETIC TOYS is made for creative sound designers and producers seeking soundscapes and unusual lead sounds that naturally stand out in a busy mix...

Continue reading: Native Instruments introduces KINETIC TOYS - a new KONTAKT Instrument in News.

This post is from the DigiFreq music technology website... click here for more and win products!



Report to Moderator