garrigus
Moderator






USA
14810 Posts

Posted - 07/01/2017 : 8:11:11 PM



[Reply to Topic] | [Reply w/ Quote]
---
Spitfire Audio BERNARD HERRMANN COMPOSER TOOLKIT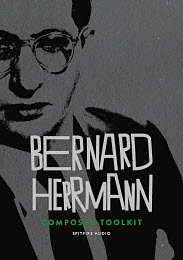 Purveyors of the finest virtual instruments from the finest musical samples in the world, is proud to announce availability of BERNARD HERRMANN COMPOSER TOOLKIT — taking inspiration from the electric genius of its iconic composer namesake (noted for his lengthy legacy of fresh film scores such as Citizen Kane, Psycho, Vertigo, and Taxi Driver that continue to inspire today's composers) when working exclusively with The Bernard Herrmann Estate to curate and assemble a unique set of studio orchestra ensembles informed directly by a legendary orchestration aesthetic recorded at London's legendary AIR Studios (Studio 1) by Abbey Road Studios Senior Engineer Simon Rhodes (Avatar, The Grand Budapest Hotel, The Magnificent Seven) before being 'translated' to Native Instruments' industry-standard KONTAKT PLAYER platform as an orchestral innovation for all — as of June 22.

"No composer contributed more to film than Bernard Herrmann, who, in over fifty scores, enriched the work of such directors as Orson Welles, Alfred Hitchcock, Franc#807;ois Truffaut, and Martin Scorsese." So stated Bernard Herrmann biographer Steve C. Smith...

Continue reading: Spitfire Audio debuts dry scoring stage ensemble library - BERNARD HERRMANN COMPOSER TOOLKIT in News.

This post is from the DigiFreq music technology website... click here for more and win products!



Report to Moderator