garrigus
Moderator






USA
14927 Posts

Posted - 06/25/2017 : 7:19:32 PM



[Reply to Topic] | [Reply w/ Quote]
---
Unfiltered Audio Sandman Pro Plug-In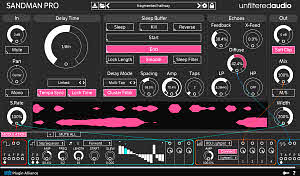 Plugin Alliance, a new 'U#776;ber-standard' supporting all major plugin formats and uniting some of the best-known international audio companies under one virtual roof, is proud to announce availability of the latest (v1.1) update of Sandman Pro — Plugin Alliance partner Unfiltered Audio's undisputed ultimate delay, doubling as a transmogrifying time machine making serious sonic travelling more musically adventurous than ever, thanks to major performance improvements and some serious upgrades to an already killer feature set — as of May 26.

Billed by its collective creators as The Delay of Your Dreams, mix engineers, sound designers, and DJs alike were wowed by the slice and dice brilliance of Unfiltered Audio's original Sandman soon after it was unleashed upon an unsuspecting world as a world-beater. But Sandman is a delay plugin with a severe narcoleptic bent, using its SLEEP mode to freeze its delay buffer to create...

Continue reading: Unfiltered Audio ups ultimate delay ante with latest Sandman Pro plugin update to die for in News.

This post is from the DigiFreq music technology website... click here for more and win products!



Report to Moderator