garrigus
Moderator






USA
14867 Posts

Posted - 06/20/2017 : 10:43:04 PM



[Reply to Topic] | [Reply w/ Quote]
---
Output Platform - Music Studio Desk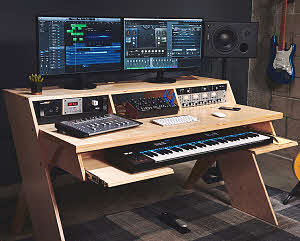 Output Inc. the software company known for their innovative instruments such as Analog Strings, Exhale, and REV breaks new ground by introducing Platform - a studio desk built for musicians.

The company discovered a shortfall in the studio furniture market for well-designed, functional, and affordable desks that did not sacrifice style. With Platform filling that void, musicians no longer need to hack together their own desks using less-than-ideal materials.

CEO and Founder, Gregg Lehrman notes; "Our goal with Output is to help musicians, producers, and composers make music. Every musician wants a great desk at the center of their studio and...

Continue reading: Output Releases Platform - A Desk For Musicians, Designed By Musicians in News.

This post is from the DigiFreq music technology website... click here for more and win products!



Report to Moderator