garrigus
Moderator






USA
14795 Posts

Posted - 04/18/2017 : 4:16:24 PM



[Reply to Topic] | [Reply w/ Quote]
---
accSone crusher-X 6 Granular Synthesizer Plug-In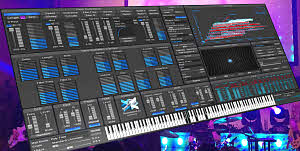 crusher-X version 6 will again present a couple of features that are unique in the world of granular synthesis: Besides the grain processing innovations "X-Crush" and "Overdrive" the new "Diffuse" processor will generate up to 10 independent reverbs inside the grains. The "reverb memory" will betaken from one grain to another and diffuses the grain content but not the grain output. This unique process will generate laser sharp grain edges while a warm sound environment is created at the same time. The reworked "Sweep" processor allows spline- and step-modulated grain-pitch runs.

In version 6 grain generators can now be modulated with the new "Spread" parameter that modulate switch different frequency offsets for each generator. This leads to very intensive, pulsing, diverge and converge grain modulations. In addition...

Continue reading: accSone releases crusher-X 6 Granular Synthesizer Plug-In in News.

This post is from the DigiFreq music technology website... click here for more and win products!



Report to Moderator