garrigus
Moderator






USA
14795 Posts

Posted - 04/16/2017 : 1:36:17 PM



[Reply to Topic] | [Reply w/ Quote]
---
Applied Acoustics Systems Objeq Delay Plug-In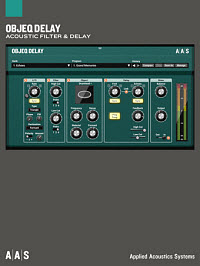 Applied Acoustics Systems announces the release of Objeq Delay, an all-new effect processor.

Objeq Delay is a creative effect plug-in combining acoustic filtering with a clever delay unit. The plate, beam, drumhead, and string objects impart evocative acoustic resonances to the input signal. Further shaping is also available via low- and high-cut filters. The in-series delay acts as a classic unit or can split the first and subsequent repeats to either remodel the attack or create complex rhythmic patterns. A LFO module completes the package with comprehensive modulation destinations to the filter, resonator, and delay parameters.

"Objeq delay is a truly creative and fun effect with multifaceted applications," said Eric Thibeault, the product's designer...

Continue reading: Applied Acoustics Systems announces the release of the Objeq Delay effect processor in News.

This post is from the DigiFreq music technology website... click here for more and win products!



Report to Moderator