garrigus
Moderator






USA
14927 Posts

Posted - 04/14/2017 : 3:35:23 PM



[Reply to Topic] | [Reply w/ Quote]
---
Softube Doepfer A-101-2 Vactrol LPG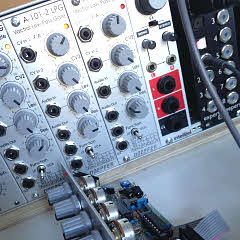 High-end plug-in specialist Softube is proud to launch Doepfer A-101-2 Vactrol LPG — a plug- in version of Doepfer's modernized take on the Buchla LPG (Low Pass Gate) concept, complete with clever and creative additions — as a new module for its perennially popular Modular software synth as of April 5.

Ever since its invention by Don Buchla, the LPG has been heralded for an ability to add a lifelike and organic response and textures to modular synth patches. With its A-101-2 Vactrol LPG, Eurorack instigator Doepfer took the concept a step further, adding a resonance filter for further sonic treatment. Today, thanks to Softube's plug-in version for Modular, the module is available for any music creator that prefers working in the software realm...

Continue reading: Softube launches Doepfer A-101-2 Vactrol LPG low pass gate module for Modular in News.

This post is from the DigiFreq music technology website... click here for more and win products!



Report to Moderator