garrigus
Moderator






USA
14927 Posts

Posted - 03/03/2017 : 7:52:06 PM



[Reply to Topic] | [Reply w/ Quote]
---
Eventide FISSION Structural Effects Plug-In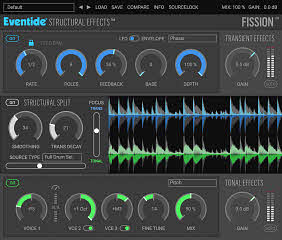 Introducing Fission, a multi-effects plug-in using new transient/tonal separation technology from Eventide.

Fission is the first plug-in to use our ground-breaking Structural Effects™ technology - A new method for processing audio. Fission allows you to split a sound into its transient and tonal parts, process each component separately with Eventide effects, and then seamlessly recombine. With the ability to add effects and dynamic controls to the transient and tonal sections, you can produce a wide range of effects, from the subtle to the extreme.

Features:
- Six Integrated Transient Effects: Delay, Tap Delay, Dynamics, Phaser, Reverb, Gate + EQ...

Continue reading: Eventide introduces FISSION - A Multi-Effects Plug-In with Structural Effects Technology in News.

This post is from the DigiFreq music technology website... click here for more and win products!



Report to Moderator