garrigus
Moderator






USA
14804 Posts

Posted - 01/27/2017 : 7:41:53 PM



[Reply to Topic] | [Reply w/ Quote]
---
Soundiron Mercury Micro - Symphonic Boys' Choir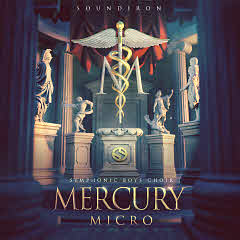 Soundiron has announced the release of the Mercury Micro - Symphonic Boys' Choir KONTAKT library. Mercury Micro is the compact starter edition of our acclaimed Mercury Symphonic Boys' Choir library. This slice of a traditional English boy's choral ensemble library includes piano and forte versions of the sustaining and staccato articulations of two important vowels: "Ah" and "Oo." It also includes two sustaining, tempo-sync-able word articulations from Christian liturgy, "Kyrie" and "Eleison."

The Mercury Boys' Choir captures the youth and purity of a full boy's choral ensemble consisting of 25 singers ages 8 to 13 with a close microphone position. We recorded the award-winning Pacific Boychoir in the same large hall that our Olympus Symphonic Choir, Apocalypse Percussion Ensemble, Montclarion Grand Piano and many other Soundiron libraries were captured...

Continue reading: Soundiron announces the release of Mercury Micro - Symphonic Boys' Choir for KONTAKT in News.

This post is from the DigiFreq music technology website... click here for more and win products!



Report to Moderator